Embryo Calendar Competition 2019
The 2019 Embryo Angling calendar was a massive success and raised plenty of money to help protect fisheries from predation by installing fences in The North of England. With your help the 2020 version can help more worthy waters protect their fish stock.
For the past 2 years there has been an amazing response when we opened the chance to submit your images for inclusion in the calendar. We were inundated with entries. Twelve of the best images will feature in the 2019 calendar when it goes on sale, one for each month.
Not only will you see your image appear in the calendar if it is selected, but each of the twelve winners – one for each month – will receive an amazing prize package worth £1000+, along with a framed picture of your image, and a photo credit in the calendar, so get snapping!
Each prize consists of a place on one of our fantastic Embryo Angling syndicate lakes for a full year, with plenty to choose from scattered around the country; £250 worth of Korda tackle of your choice; Mainline bait worth £250 and a custom set of Reuben Heaton scales.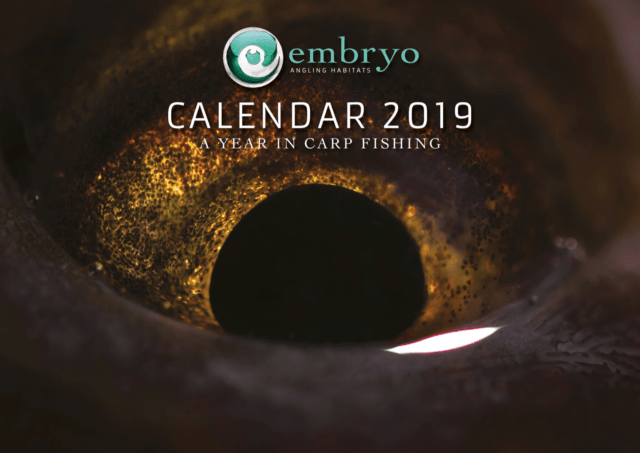 To enter, all you have to do is submit a photo that you have taken and specify which month you are entering it for – the content should be appropriate for the time of year. This year there is a maximum of 5 entries per person.
The subject matter of your photos can be anything relating to your time out on the bank, be it a catch shot/nature/scenic/action shot/carp in their environment/silhouette. You can enter up to six shots in total across any month and on any subject matter. It is open to anyone in Europe and your shots don't necessarily have to have been taken in the UK.
All photos submitted must be in: landscape format (6×4 aspect ratio); 72dpi resolution for your submission, but the original image must be at least 300dpi; a JPEG file of up to 10MB in size (any larger and the email won't come through); and with minimal editing in Photoshop (re-touching and tweaking is permissible). The closing date for entries is midnight on 1st September 2019. and anything submitted after that date won't be eligible for the competition. Email your entries to: calendar@embryoangling.org